Two Days Workshop on Women Leadesrhip in Higher Education
Department of Management Sciences, 23-24 April, 2016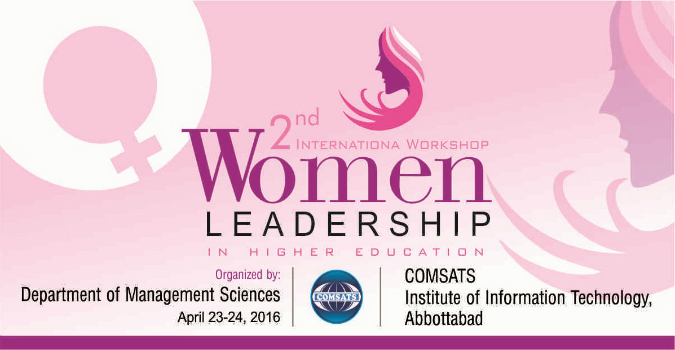 Overview
The 1st workshop was organised in collaboration with Duzce University, Turkey in February 2015.
A very important pioneering project of Duzce University is the leadership and mentorship program for women academicians.
The universities have a very poor representation of women in Leadership positions despite a very good proportion of women academicians.
The proportion of women leaders in higher education is very low in Pakistan. An initiative is taken by COMSATS University Islamabad, Pakistan in 2015.
Objectives
To discuss the leadership issues in higher education, in general, and the poor representation of women in decision making positions in specific.
To discuss the obstacles hindering women from becoming leaders in universities, and to determine strategies to overcome these difficulties.
To share information about experiences in Turkey especially on women leadership in higher education.
To encourage women academicians at the early stages of their academic career for becoming candidates for leadership positions.
To submit a final report that summarizes problems and proposes solutions for Pakistan specifically and Islamic World at large.
Participants
The workshop is intended for 50 mid-career women academicians representing all regions and universities of Khyber Pakhtunkhwa province of Pakistan.
There are 19 public/private HEC recognized universities and one campus of COMSATS in Khyber Pakhtunkhwa province.
None of the universities, except women universities, have women in top administrative positions. The share of women faculty in these universities is about 20 percent.
Form each university at least two women participants, working eaither as faculty or administrative staff, will be attending the workshop.
Resource Persons/ Moderators
Prof. Dr. Funda SIVRIKAYA SERIFOGLU, Dean, Faculty of Engineering and Natural Sciences, Istanbul Bilgi University, Istanbul, Turkey
Prof. Dr. Noor Jahan , Vice Chancellor, University of Swabi, Swabi
Prof. Dr. Razia Sultana , Vice Chancellor, SBB Women University, Peshawar
Prof. Dr. Bushra Hameed, Dean Management & Information Sciences, University of Peshawar
Prof. Dr. Nasreen Ghufran, Chairperson Department of International Relations, University of Peshawar
Ms. Qamar Afroz, Senior Audit Associate, KPMG Taseer Hadi & Co Chartered Accountants, Islamabad
Ms. Adeela Masood Chattha, Manager Human Resources, Alcatel-Lucent Pakistan Limited, Islamabad
Ms. Juwairia Sultan, Program Officer, Danish International Development Aid
Prof. Dr. Rehana Rashid, Department of Chemistry, COMSATS university Islamabad, Abbottabad
Prof. Dr. Shehla Amjad, Department of Management Sciences, COMSATS university Islamabad, Abbottabad
Dr. Romana Khan, Associate Professor, Department of Environmental Sciences, COMSATS university Islamabad, Abbottabad