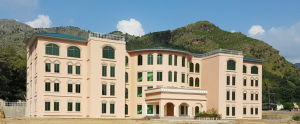 COMSATS University Islamabad, Abbottabad Campus is imparting quality education, contributing effectively to the research base of Pakistan, providing state-of-the-art facilities to the students, helping in social uplift of the community. Abbottabad Campus became functional in July 2001, and the first academic session started in September 2001. CUI, Abbottabad from a modest beginning in 2001 with three departments and 121 student strength, three undergraduate programs and a physical structure comprising old World-War II barracks, emerged the leading institute of the region which has now twelve departments, student strength of 5672 (47 fold increase), 15 undergraduate programs, 24 graduate programs, and a qualified faculty strength of 386 including more than 212 PhDs and 90 modern laboratories.
To meet the challenges of the national commitment for the education, CUI Abbottabad plans, in the coming years, to launch 17 new departments with a focus on science led engineering, social, medical and agriculture sciences. In order to cope up with the pressing need of expansion and accommodating the students and faculty in up to the mark and modern physical infrastructure, CUI Abbottabad Campus remained blessed to have 486 kanals of land allotted by the Government of Pakistan at Dhamtour. The village Dhamtour is situated at the east of Abbottabad City of Hazara Division, Khyber Pakhtunkhwa. Village Dhamtour is the gate way to the tourists places like Bara Gali, Nathiagali, Dunga Gali, Ayubia National Park, Miranjani Peak, Mushkpuri Peak and Murree.
The master plan of the CUI, Abbottabad Permanent campus Dhamtour is already approved. One state-of-the-art building covering an area of around 50,000 sq. feet has been constructed. Having 4 stories, this building includes conference rooms, 9 no. of classrooms, 10 large lecture halls, 4 Laboratories and 54 offices for the faculty and administration. On the similar pattern in accordance with the approved master plan another building of the same capacity is also being constructed under the visionary supervision of the Project/Campus Director Professor Dr. Muhammad Maroof Shah. The master plan of the CUI Abbottabad Permanent Campus Dhamtour entails 5 academic blocks, one Grand Mosque, Girls and Boys Hostel facility, Library spanning on an area of 20000 sft, Main Auditorium (app. 15000 sft), sports gymnasium and student service center. CUI, Abbottabad aims to provide the best modern and well-equipped facilitation for the students and staff. Providing such a magnificent campus in the vicinity of the beautiful land of Dhamtour will not only uplift the living standards of the locals in specific but the overall nation in general.
More videos and pictures of Dhamtour Campus are available here.
Map Location: